Locations¶
Under DEVICES and MMP sector Locations provides a list of all locations of the subject and of all superior and subordinate subjects, but user has rights for editing only those locations, which were created by him/herself.
When certain location is chosen (with click on its name), the page for editing location will open (Edit location). Change of Location name and Type is possible here.
For device-location editing please choose button check devices - thus you verify if all devices, which have chosen this location do actually correspond to the location. There are 3 options for editing device-location correlations:

This means that your location is set-up correctly.
If we got no GPS coordinates from the device on selected location and if there is no events on it, then there is a possibility to delete this location from location history for this device.


If device with its GPS coordinates does not correspond to this location, more appropriate location(s) is/are offered.

If none of locations is defined for these GPS coordinates, then new location can be created (with GPS coordinates from the device) and the device is moved there.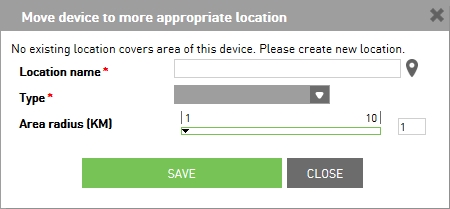 If there already exist a location, which can be suitable for this device, but it is not defined with the GPS coordinates, then location can be fulfilled with coordinates from this device.

If there was no device on existing location ever, then the user has a possibility to delete this location from the list of locations.